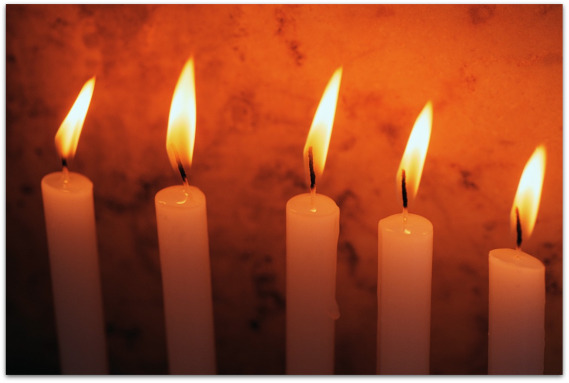 Highlights
~~~~~~~~~~~~~~~~~~~~~~~~~~~~~~~~~~~~~~~~~~~~~~~~~~~~~~~~~~~~~~~~~~
The Franciscan Way Retreat
On Saturday, December 3rd, Elena Andrews, Merrilee Melvin, and Avril Bland led over 50 contemplatives in a silent retreat based on the teachings of St. Clare and St. Francis at St. Bartholomew's Episcopal Church.  With Christmas preparations and activities looming, we all felt blessed to have periods of Centering Prayer and reflective silence.  Thank you to all who served and all who participated.
Merrilee, Avril and Elena, our wise and talented retreat leaders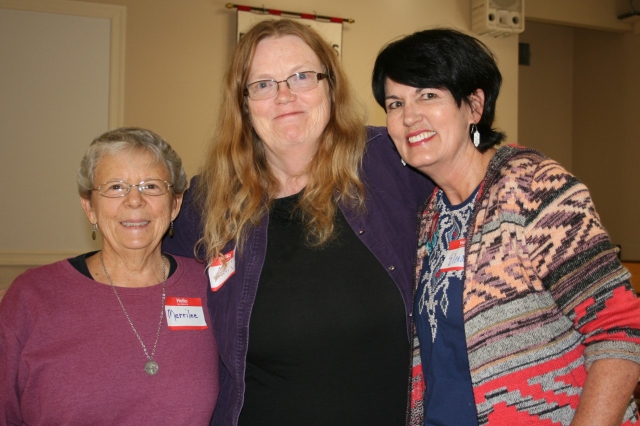 Learning about St. Clare and St. Francis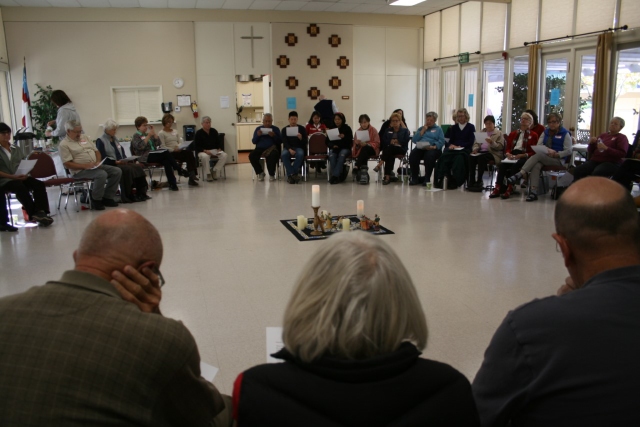 The prayer circle altar with Elena's nativity scene.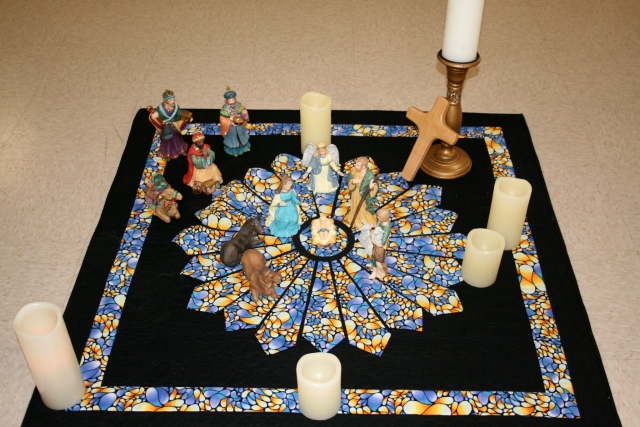 Artifacts to explore during periods of silent reflection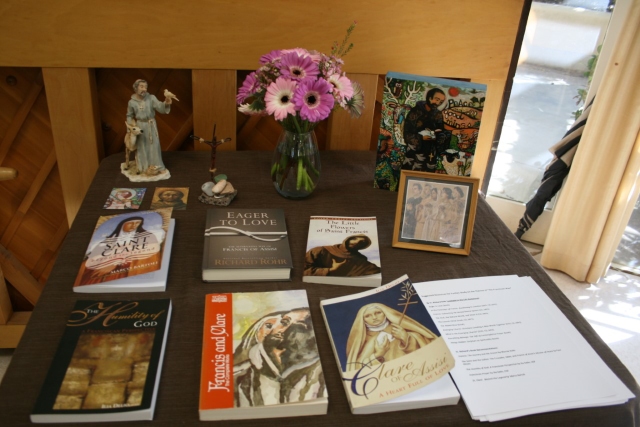 Sharing at the close of the retreat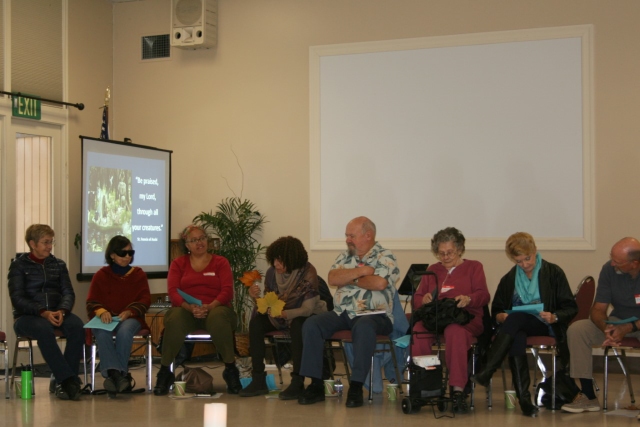 ~~~~~~~~~~~~~~~~~~~~~~~~~~~~~~~~~~~~~~~~~~~~~~~~~~~~~~~~~~~~~~~~~~
Prince of Peace Abbey Silent Retreat
On October 14-16, 2016 CONSD held its yearly Prince of Peace Abbey silent retreat. Twenty-eight participants experienced an extended time of silence from Friday evening until Sunday lunch. The monks prepared good meals for us three times a day, and we ate all but the first and last in silence. We were encouraged to personalize our retreat by attending any or all of the spiritual offerings to include: Centering Prayer in a group, the liturgy of the hours in the church led by the monks, lectio divina led by Chris and Sue, praying the Stations of the Cross on a nature walk, and mass in the church or an ecumenical service in the chapel on Sunday. The October weather was cool and pleasant encouraging both indoor and outdoor options. Consider attending this lovely 3-day retreat next October.
Retreatants joining the prayer circle on Friday evening.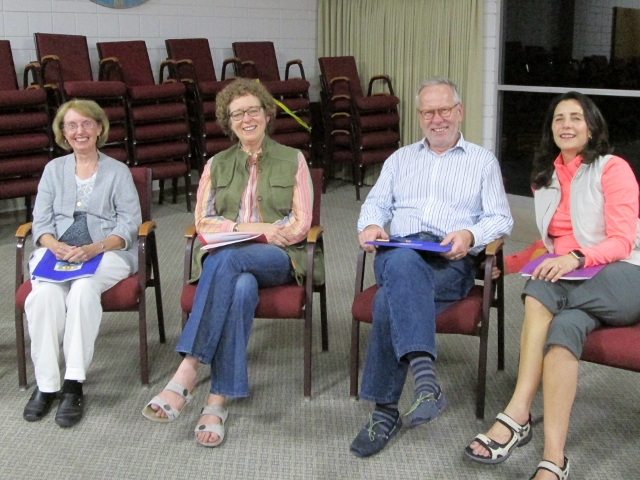 A bank of retreatant single rooms.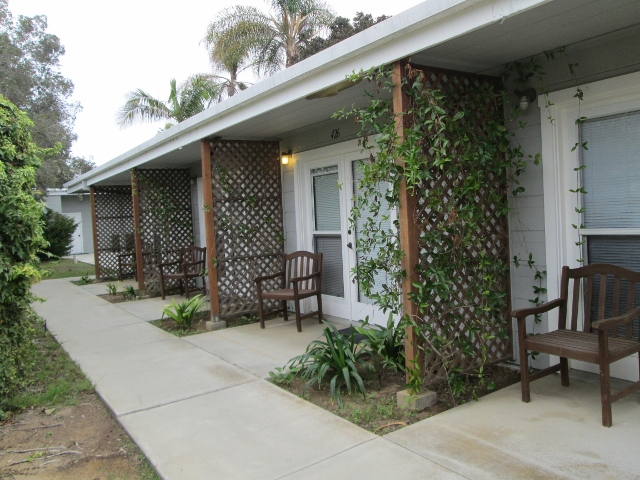 Our breakfast buffet with many choices.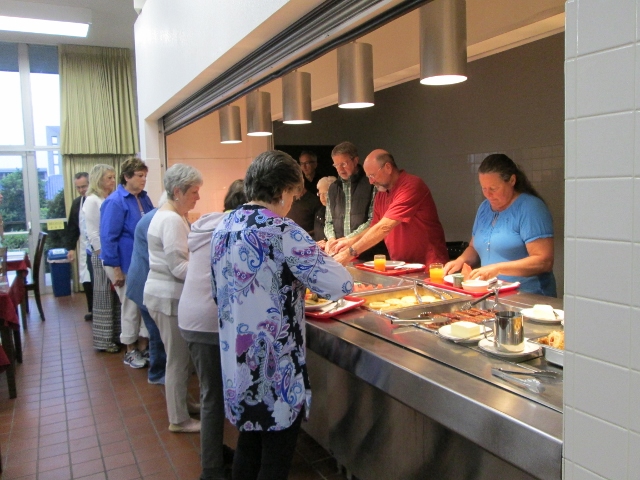 Taking part in a meditative walk between prayer periods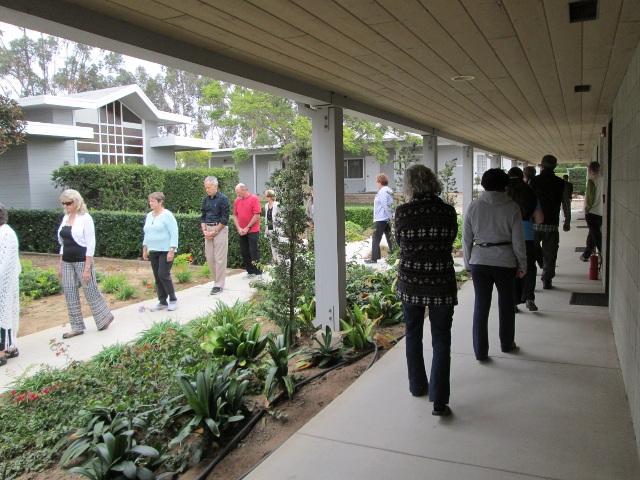 Our closing prayer circle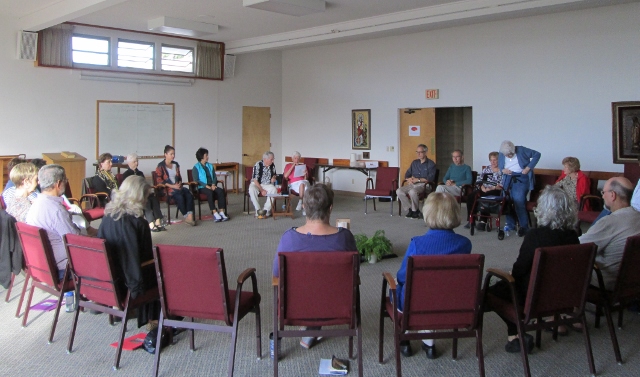 Chris and Sue Hagen with Rev. Gwynn Lynch, after the ecumenical Sunday service.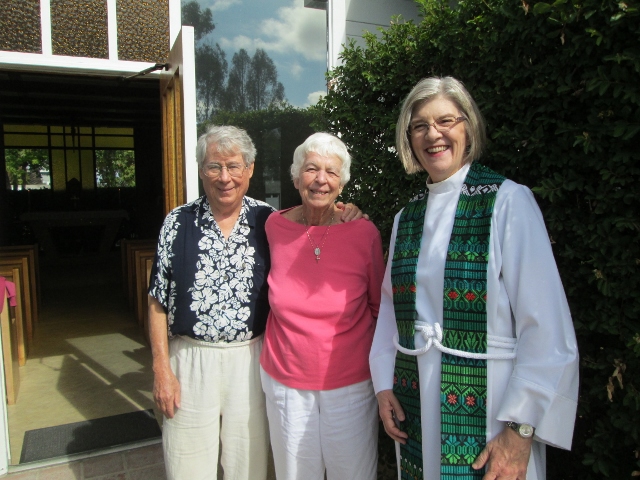 ~~~~~~~~~~~~~~~~~~~~~~~~~~~~~~~~~~~~~~~~~~~~~~~~~~~~~~~~~~~~~~~~~~
Putting on the Mind of Christ
On Saturday, September 10th, CONSD hosted a special workshop with our friend, our former CONSD co-chair, and renown speech pathologist Dr. Chris Hagen, better known to us as Chris. Drawing on his vast knowledge of the workings of the brain, numerous current studies, and his deep understanding of Centering Prayer, Chris understandably explained how Centering Prayer changes the brain allowing our True Self to blossom. Handouts with many of the beautifully prepared slides augmented the presentation. There is a video from this presentation, "Putting On The Mind Of Christ. How Centering Prayer Changes The Brain" by Chris Hagen. For the link: click here.
~~~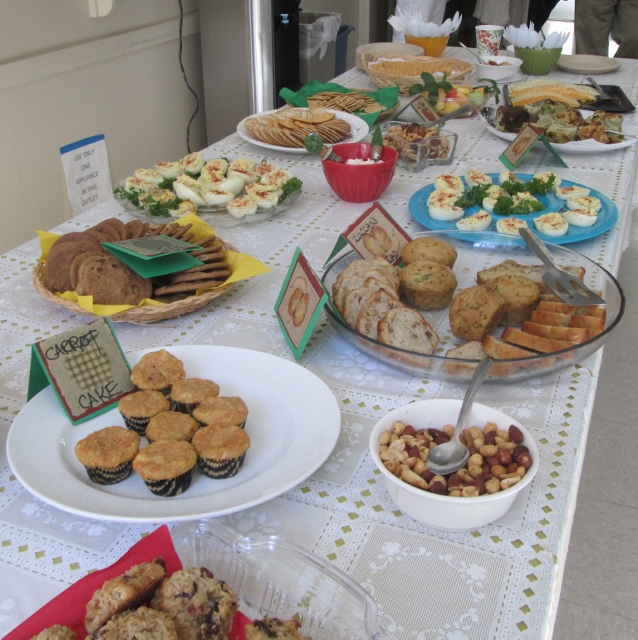 ~~~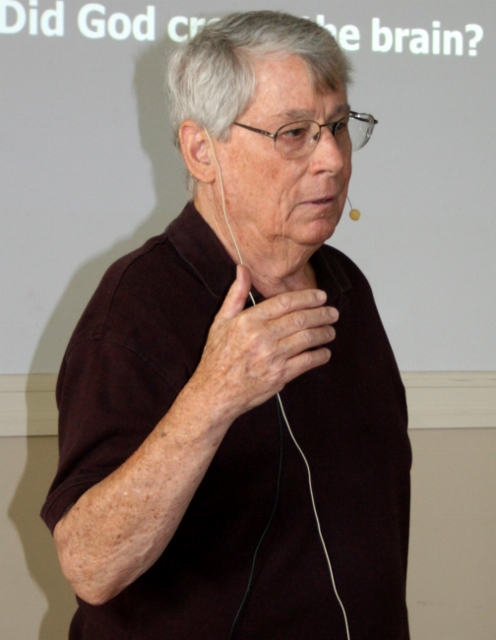 ~~~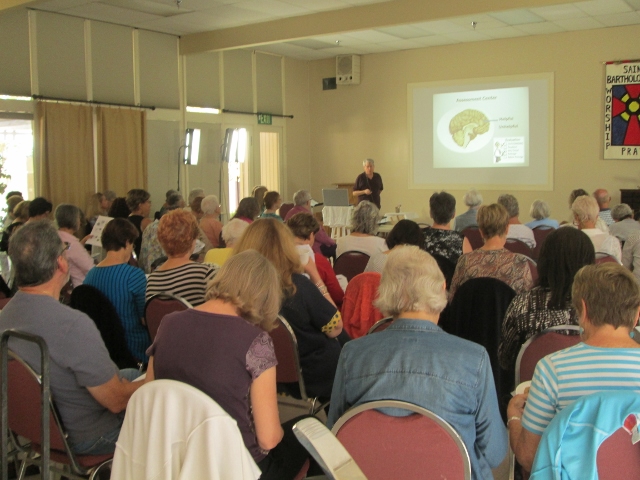 Chris had us sing to celebrate our faith and to take a mini break from his talk.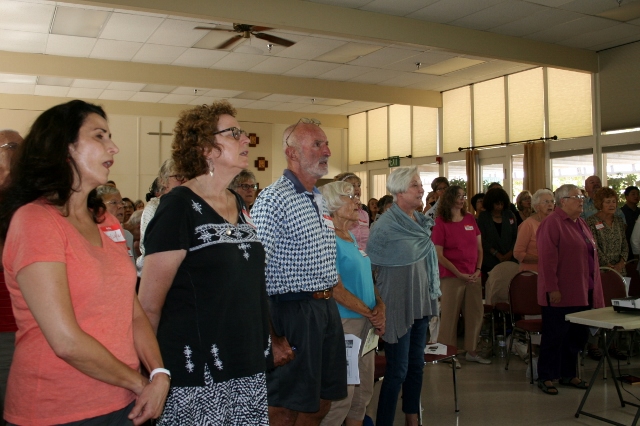 ~~~~~~~~~~~~~~~~~~~~~~~~~~~~~~~~~~~~~~~~~~~~~~~~~~~~~~~~~~~~~~~~~~
Rev. Mark McKone-Sweet: Building Bridges 
On June 25th, the Rev. Mark McKone-Sweet, rector of St. Bartholomew's Episcopal Church led an inspired retreat on Building Bridges. After hospitality and a period of Centering Prayer, Fr. Mark shared many key moments on his faith journey, and after each he asked us to recall where, on our own journeys, we had had a similar experience. Following the question, Fr. Mark raised his sweet and powerful voice in a chant-like song, and we soon joined him. The morning ended with heartfelt sharing, and many witnessed to the power of the message.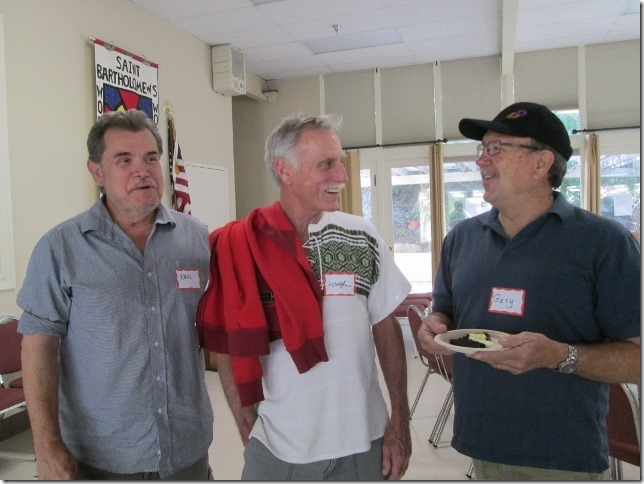 Meeting new people.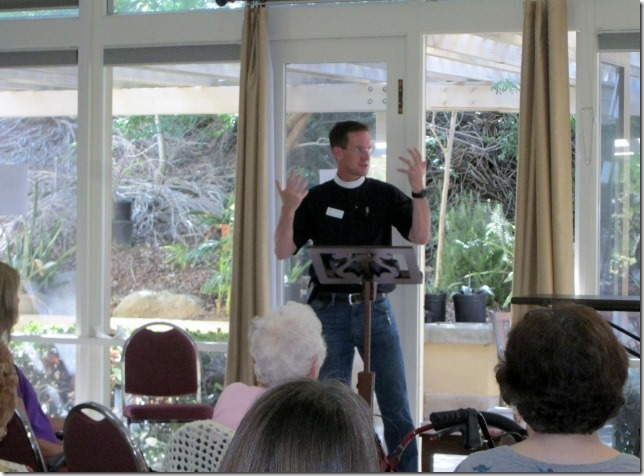 Fr. Mark sharing an incident from his spiritual journey.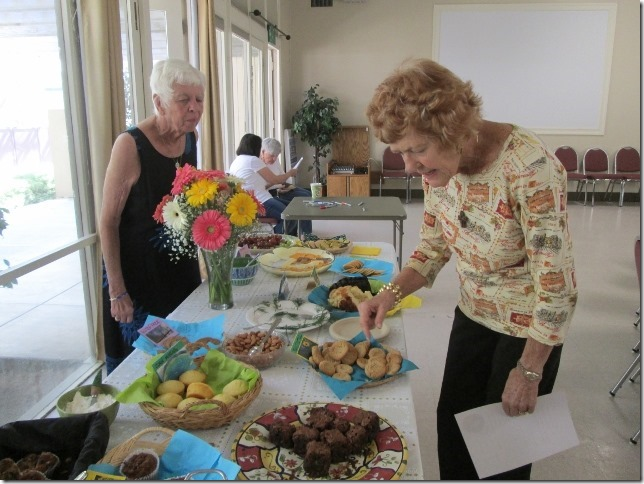 Sometimes it's hard to decide what to choose at the hospitality table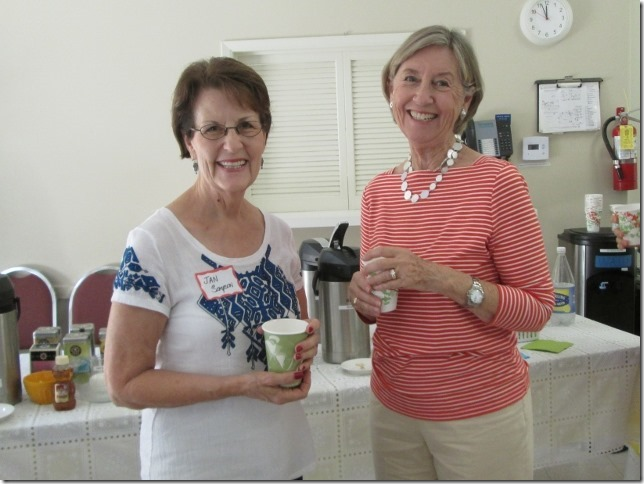 Reconnecting at the retreat.
  ~~~~~~~~~~~~~~~~~~~~~~~~~~~~~~~~~~~~~~~~~~~~~~~~~~~~~~~~~~~~~~~~~~
Carolyn Metzler: Discerning a Rule of Life
On April 9th, seventy-four contemplatives gathered  to hear Carolyn Metzler, a teacher from Richard Rohr's CAC (Centering for Action and Contemplation) speak on how we can discern a Rule of Life. The event was held at Escondido First United Methodist Church and participants gained insight into writing their personal "Mission Statement" as well as being inspired by Carolyn's speaking, music, and readings.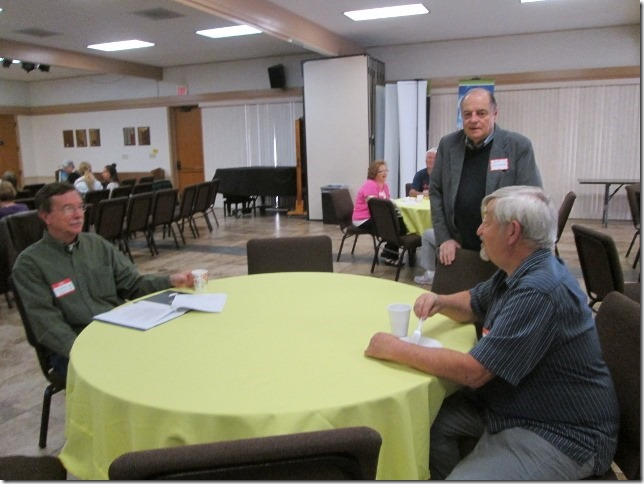 Visiting before the workshop.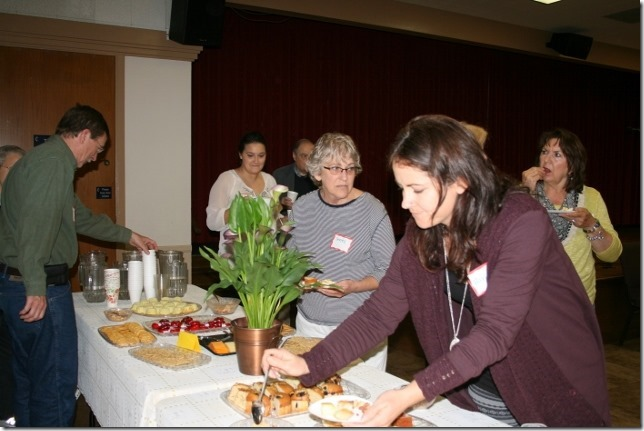 Enjoying the beautiful and abundant hospitality table.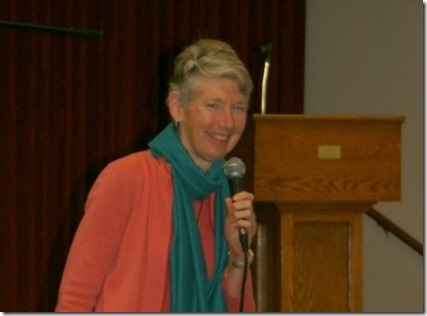 Carolyn sharing a story from her life.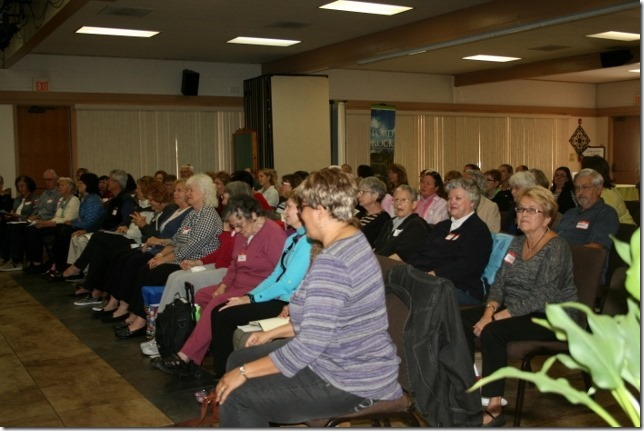 Participants enjoying Carolyn's wisdom and insights.
 ~~~~~~~~~~~~~~~~~~~~~~~~~~~~~~~~~~~~~~~~~~~~~~~~~~~~~~~~~~~~~~~~~~
Full Day Retreat with Fr. Stephen Coffey
On February 6, 2016, almost 100 participants came to hear Fr. Stephen Coffey, a Benedictine monk in residence at the Monastery of the Risen Christ,San Luis Obispo, speak on the Cosmic Christ. A warm and sunny day enhanced his rich teaching of Sophia and her relationship to the Cosmic Christ. Fr. Steve applied passages from the book of Proverbs, the Torah, and ideas of Maximus, Bonaventure, Duns Scotus, Aquinas, Teilhard de Chardin, Merton and Ilia Delio to help us arrive at a greater understanding of the Cosmic Christ.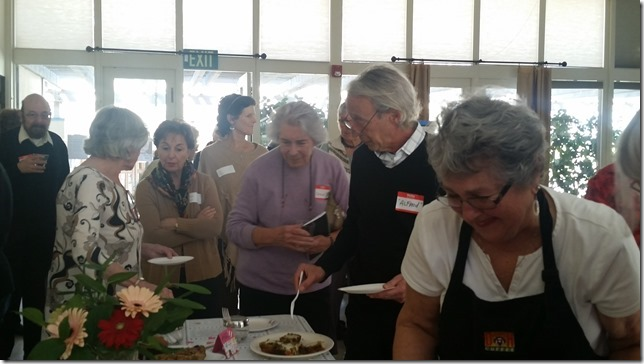 During the day we were refreshed with beautiful and abundant hospitality.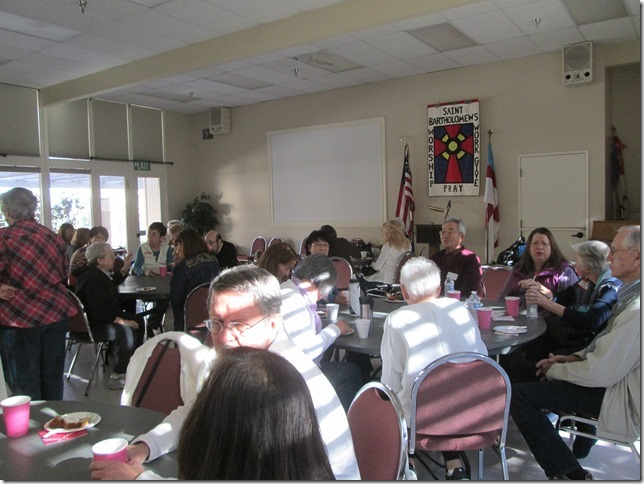 Many participants had time to renew their friendships.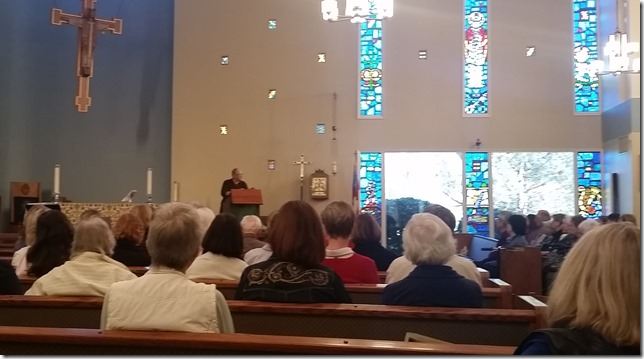 We gathered in St. Bartholomew of Poway sanctuary for the conferences.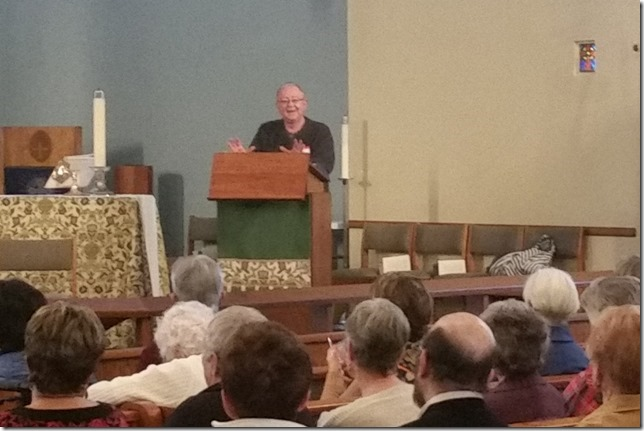 Fr Steve's animated speaking style engaged us and his teaching made difficult concepts clear.
~~~~~~~~~~~~~~~~~~~~~~~~~~~~~~~~~~~~~~~~~~~~~~~~~~~~~~~~~~~~~~~~~~